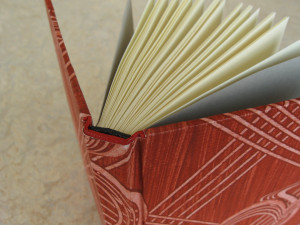 At Big River Bindery we practice the art of the book: conserving and repairing books and paper items, making custom books and boxes for special occasions, and printing books and ephemera with custom designs using letterpress printing.
We use vintage wood and metal type and antique presses and bookbinding equipment, some over 100 years old. Workshops in letterpress printing and the book arts are listed under our Workshop tab.
We have some good news and some bad news to share. After 6 years serving customers in Atlanta, life is taking Andrew and the shop away from our community. We'll be moving to Toronto, Ontario, Canada to set up and serve customers north of the border. We're sad to leave the south, but excited to explore opportunities in Canada.
We are not taking on any new projects in Atlanta. We're taking the next few months to complete projects already in the shop before we pack up to leave. We will contact current customers as we approach the end of the year to return completed items.
Thanks for your understanding
The Big River Bindery Staff
Our address through February is:
6500 McDonough Dr NW, Ste C4
Norcross, GA 30093
USA
Phone: 404-831-3849
Email: bigriverbindery@gmail.com
Starting March 2023 we will be open at:

94 Crockford Blvd
Scarborough, ON M1R 3C3
Canada