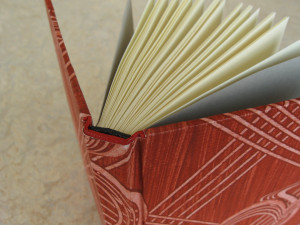 At Big River Bindery we practice the art of the book: conserving and repairing books and paper items, making custom books and boxes for special occasions, and printing books and ephemera with custom designs using letterpress printing.
We use vintage wood and metal type and antique presses and bookbinding equipment, some over 100 years old. Visitors are welcome to drop by during our open hours and by appointment. Workshops in letterpress printing and the book arts are listed under our Workshop tab.
Due to a high volume of work in the shop, the bindery has stopped taking new work until October 1st. We hope to spend the summer catching up on projects in the shop and preparing for a busy fall. Please contact us after October 1st to set an appointment.
We continue to work on projects already in the shop and will contact you as soon as they are completed.
Thanks for your understanding.
The Big River Bindery Staff
Our address is:
6500 McDonough Dr NW, Ste C4
Norcross, GA 30093
Phone: 404-831-3849
Email: bigriverbindery@gmail.com
We are open Monday, Wednesday, and Friday by appointment. Call or email to find a time that works best for you.