Past Workshops
We may not have what you're looking for now, but we try to get a range of workshops every season. Take a look at some of the workshops we've offered in the past and let us know if you'd like to see it in our next schedule.
Let us know at  bigriverbindery@gmail.com or call 404-831-3849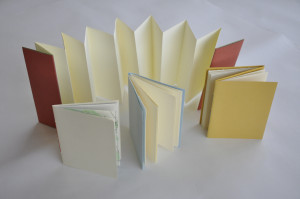 Introduction to Bookbinding

Participants will learn techniques to start making their own books and pamphlets working with paper, thread, and glue. Different book structures will be created that can be used for gifts, small notebooks, journals, or art projects.
Three Hours of instruction
Sewn Board Binding
In this workshop you
will learn how to make
your own sketchbook
using the Sewn Board
Binding method. These
books open flat for drawing, painting, or journaling and hold up well to
repeated use. Books can
be made to the size and
shape most useful for
you. The pages will be
sewn, glued, and bound
using simple tools you can recreate at home.
Six hours of instruction
Fun Folding Out: Tunnel Book & Carousel Books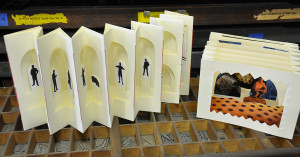 In this workshop we will explore options for three-dimensional books. Concentrating on accordion folded variations, we will construct tunnel, and carousel books. These playful structures are ideal for artist books and unique presentation books. Tunnel and Carousel structures have historically been used for children's books or keepsakes.
Twelve hours of instruction.
Bookmaking for photographers and printmakers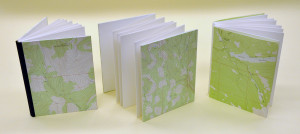 This workshop will present book structures useful for photographers, printmakers, and collage artists making imagery one side of sheets of paper. Book made will include the Drum Leaf Binding, Storage Book and Multiple-Leaf Accordion structures. These structures allow the artist to print, draw, or collage on single sheets before binding, ideal for photographers using photo paper to print their images. These binding methods allow for easy arrangement of imagery, from one image to the next though the book avoiding complicated imposition necessary in sewn books. These books use adhesive instead of thread to bind them, allowing for uninterrupted views of the images across the pages. These structures will also be useful for making journals and sketchbooks. Students are encouraged to bring samples of their favorite papers to discuss and sample prints to bind in class.
Twelve hours of instruction.
Long Stitch Binding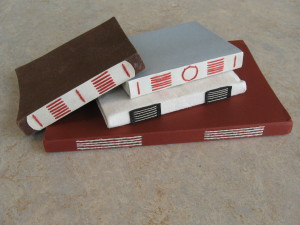 The long stitch book was common to accountants in 16th Century Italy. In this workshop we will construct a modern variation using the long stitch method with multiple sections to allow more pages into your books. This sewing method has rows of sewing on the spine that serve as a decorative element. Participants will go home with a completed book.
Six hours of instruction
Secret Belgian Binding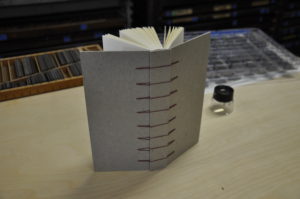 Join us as we create the Secret Belgian Binding, a book with a hard cover woven together over a sewn set of pages. The book allows for flat opening for use, but a strong cover for protection when it's in your bag. We will start by covering the boards with decorated paper then move onto the sewing of the book. Great for sketchbooks and journals.
Six hours of instruction.
The Nag Hammadi Binding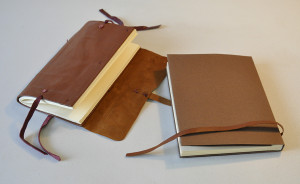 The first remaining examples of bound books from the 2nd century AC, the Nag Hamadi bindings housed the Gnostic Gospels, lost until found in a cave in Egypt in 1945. They contain a folded set of pages covered by a stiff leather cover. The book we construct will include ties at the top and bottom and a flap at the opening to protect your notes and sketches.
Six hours of instruction.
German Trade Paper Binding with Henry Hebert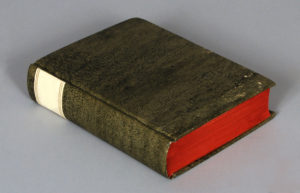 Paper bindings have long been considered a workhorse in the book trade, as publishers and booksellers sought economical ways to get printed books into the hands of an increasingly literate public. Paper can be a surprisingly durable covering material and, combined with the right structural components, can result in a well functioning book. This class will provide a brief overview of some popular early case binding styles, with images of historical examples, handouts, and a reading list. Students will then create a model of an early stiff board case binding. Through demonstration and hands-on work, this workshop will cover sewing, endsheet construction, endbands, and spine lining, all while considering how the materials and composition of the binding produce the book action. Students will produce decorative paste papers, but may also bring their own decorative paper to cover the model.
Bio:
Henry Hebert is a conservator for special collections at Duke University Libraries in Durham, NC. Before returning to the South, he worked and trained in con­ser­va­tion at the University of Illinois at Urbana-Champaign, the Boston Athenaeum, and the Harvard Business School. Henry holds a master's degree in library science from the University of North Carolina at Chapel Hill and a diploma in hand bookbinding from the North Bennet Street School. He is active on the board of the Guild of Book Workers (GBW) and is a Pro­fes­sional Asso­ciate in the Amer­i­can Insti­tute for Con­ser­va­tion of His­toric and Artis­tic Works (AIC).
Seven hours of instruction.
Drum Leaf Binding
This course will cover the Drum Leaf Binding, contemporary book structure that is influenced by historic bindings. The Drum Leaf Binding uses adhesive alone to connect the pages and cover. Each book has flush edges and opens flat, which is ideal for sketchbooks, journals, or artists' books. We will also discuss a variety of paper choices and edge decorating techniques so you can personalize your books.
Six hours of instruction.