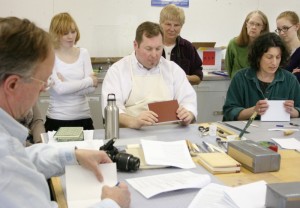 At Big River Bindery we don't want to have all the fun, so we offer workshops in printing and binding so you can try it out yourself. See the listings below for both long and short-term classes you can take. All classes have a maximum of 6 students.
To register, email bigriverbindery@gmail.com
or call 404-831-3849
Online registration for the workshops is at https://squareup.com/store/big-river-bindery
If you don't see what you want here, check out our list of past workshops at https://bigriverbindery.com/pastworkshops/
Fall 2018
Introduction to Bookbinding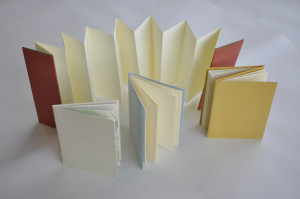 Never made a book before but always wanted to try? This one evening workshop will teach you the techniques to start making your own books and pamphlets, learning how to work with paper, thread, and glue. We will make six different book structures that you can use for gifts, small notebooks, journals, or art projects. No experience is necessary, and all are encouraged to join in.
Wed, Sept 19, 7:00 – 10:00 pm, $35.00
Long Stitch Binding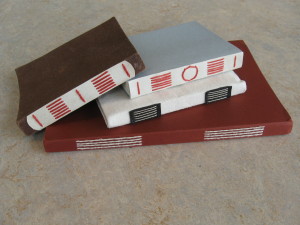 The long stitch book was common to accountants in 16th Century Italy. In this workshop we will construct a modern variation using the long stitch method with multiple sections to build more pages into your books. The binding method has rows of sewing on the spine that serve as a decorative element. Participants will go home with a completed book
Wed, Sept 26, 7:00 – 10:00 pm, $40.00
Paper has been used for book covers long before the modern paperback. Since the 16th century, paper covers have proven to be strong and attractive. This class will explore the use of paper for making covers on a laced case binding, where the sewing supports attach the paper cover to the text block inside. Participants will go home with three hand made books to use as sketchbooks or journals, or to give as a gifts.
Tuesdays, Nov 27 & Dec 4, 7:00 – 10:00 pm
$100.00
The Thread that Binds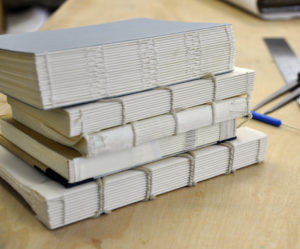 This weekend workshop will concentrate on the various ways that thread has connected the pages of books over the ages. We will sew a handfull of models from the earliest coptic binding to modern case bound books. The text blocks will be a reference set for future bindings.
Sat/Sun, Dec 1 & 2, 9:00 – 4:00 w/ 1 hour lunch
SESSION FULL
We will offer this workshop again in the spring.
To reserve your spot, contact us at 404-831-3849 or bigriverbindery@gmail.com. Online registration can be found at https://squareup.com/store/big-river-bindery