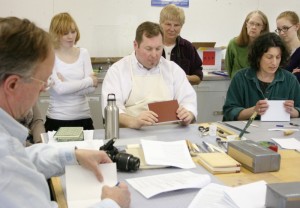 At Big River Bindery we don't want to have all the fun, so we offer workshops in printing and binding so you can try it out yourself. See the listings below for both long and short-term classes you can take. All classes have a maximum of 6 students.
To register, email bigriverbindery@gmail.com
or call 404-831-3849
Online registration for the workshops is at https://squareup.com/store/big-river-bindery
If you don't see what you want here, check out our list of past workshops at https://bigriverbindery.com/pastworkshops/
Spring 2018
Big Pop-Ups for Miniature Books
Pop-up books are most magical when impossibly large images explode from the opened book. Strategies for creating these explosive, expansive structures are useful in miniature books, as they allow you to increase the drama and content of your tiny tomes. Using cardstock and a small set of simple hand tools, you will build and bind a dozen structures that move above, beyond and even behind the page. All levels are welcome; participants with binding or papercraft skills will have a leg up."
Instructor Bio: Shawn Sheehy has been teaching book arts courses and workshops on the national level—primarily in paper making and paper engineering—since 2001. His broadsides and artist book editions have been collected by numerous prestigious institutions, including Stanford, Carnegie Mellon, University of Chicago, the Library of Congress, UCLA, and Harvard.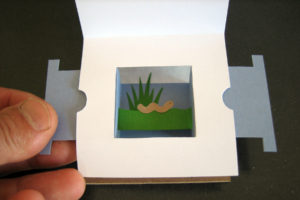 His pop-ups have been featured twice in both Hand Papermaking magazine and Vintage magazine. Sheehy's trade pop-up book Welcome to the Neighborwood (a mass-market version of his artist book) was released by Candlewick Press in 2015. The mass-market version of his artist book Beyond the Sixth Extinction was released in October 2018. He holds an MFA in the Book Arts from Columbia College Chicago. See more at shawnsheehy.com."
Saturday & Sunday, January 19 & 20, 2019, 9am to 4pm with an hour lunch.
$260.00 and a $20 materials fee
Making a Traditional Medieval Girdle Book
The traditional medieval girdle book has an extended covering of soft leather often ending with a Turk's Head knot. The book was bound in this way so the knot could be tucked under a girdle or belt and the book swung up for reading. Renate's workshop will start with a brief introduction into the history and variations of the girdle book. The workshop will include: how to prepare a textblock for this binding, sewing endbands, preparing and attaching the wooden boards, preparing the skin for covering, making the Turk's Head knot or another method as a finish on the extended covering and making and attaching a pair of simple brass clasps.
Participants will need to prepare a textblock sewn on 3 double cords, rounded and spine lined. Detailed instructions and dimensions will be provided. Material for boards and clasps will be prepared by the instructor.
Instructor Bio: Renate Mesmer is the Head of Conservation at the Folger Shakespeare Library. She also held the position of Assistant Head of Conservation between 2004 and 2011. Renate started working as a bookbinder at the age of sixteen and earned a Masters in Bookbinding from the Chamber of Crafts of Palatinate in Germany. Before moving to the United States, she directed the Book and Paper Conservation Program at the Centro del bel Libro in Ascona, Switzerland. As Head of Conservation at the Speyer's State Archives in Germany she was awarded a grant to study conservation abroad. Her internships took her to the Metropolitan Museum of Art in New York, the Library of Congress, the Folger Shakespeare Library, and the Fine Arts Museum of San Francisco. Renate has enjoyed teaching a great variety of workshops in book and paper conservation for the Guild of BookWorkers Regional Chapters, North Bennett Street School, AIC in the U.S. as well as other organizations in Australia, Canada and Switzerland for many years. She has presented at American Institute for Conservation of Historic and Artistic Works (AIC), Guild of BookWorkers, and Society of Bookbinders. Her position as president of the International Association of Book and Paper Conservators (IADA) keeps her current on the field of conservation at an international level.
Friday to Monday, March 8 – 11, 2019, 9am to 4pm with an hour lunch
$440.00 plus a $35 materials fee.
To reserve your spot, contact us at 404-831-3849 or bigriverbindery@gmail.com. Online registration can be found at https://squareup.com/store/big-river-bindery