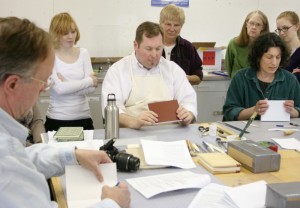 At Big River Bindery we don't want to have all the fun, so we offer workshops in printing and binding so you can try it out yourself. See the listings below for both long and short-term classes you can take. All classes have a maximum of 6 students.
To register, email bigriverbindery@gmail.com or call 404-831-3849
If you don't see what you want here, check out our list of past workshops at http://bigriverbindery.com/pastworkshops/
Summer 2017
 We're teaching out of town much of the summer, so won't have any classes in our Norcross location. Keep your eyes out for our Fall lineup of classes.
If you're willing to travel for the fun, see our summer classes below.
Focus on Book Arts Conference
Forest Grove, Oregon
June 21 – 25, 2017
Paper Case Binding
Paper has been used for book covers long before the modern paperback. Since the 16th century, paper covers have proven to be strong and attractive. This class will explore the use of paper for making covers for hand-sewn books, concentrating on three paper covered books with sewn pages: one on supports and laced into the cover, another with a linking stitch and a pasted cover, and a long stitch that shows on the spine while attaching the pages. Participants will go home with three hand made books to use as sketchbooks or journals, or to give as a gifts.
Date: Wednesday and Thursday, June 21 and 22, 2017
Nag Hammadi Binding
In this workshop we will create a sketchbook or journal based on historic examples of the earliest book structures. The Nag Hammadi bindings carried the Gnostic Gospels, discovered in a cave in Egypt in 1945. It contains a folded set of pages covered by a stiff leather cover. Ties at the top and bottom and a flap over the fore-edge will protect your notes and sketches on the pages.
Date: Friday, June 23, 2017
Archival Boxes and Enclosures
Looking for a way to protect a fragile book or store a collection of prints or photographs? Conservation boxes and enclosures are the best way to protect and house your collections and fragile objects, such as books, prints, photographs, and small ephemera. Participants in this class will construct a number of boxes, slipcases, and enclosures to protect and display treasured items. The enclosures include an inset box, wrapper with a case, self-closing wrapper, two slipcases, a corrugated drop spine box and a storage book.
Date: Saturday and Sunday, June 24 and 25, 2017
---
International Preservation Studies Center
Mt Carroll, IL
Boxes and Enclosures for Libraries and Archives
 The best first step to Preservation of books and paper materials is to house them in an archival storage container. Proper enclosures can protect them from the environment, including temperature and relative humidity swings and the effects of UV light. This workshop will cover boxes and enclosures for books and paper items from the simple to the complex, including the cloth covered clamshell box, phase box, self-closing wrapper, tuxedo box, corrugated clamshell box, the Folger Phase Box with Mylar Spine, enclosures for small items, and a four flap enclosure in a hard case. Class discussions will include the best material choices for presentation and preservation, best practices for measuring and cutting materials, and choosing materials for the best archival qualities.
Date: August 15 – 18, 2017
Historic Book Structures and Materials
This course will cover the methods and materials used on book manufacture over time. Students will make book models to be used as reference when approaching rare books for conservation. Variations in sewing structure and board attachment will be covered. Book structures covered will include Medieval Gothic binding, laced cased binding, 18th century laced boards, and 19th-century case binding. Models will be break away or partially complete to allow future reference to the structures of the models.
Date: August 22 – 25