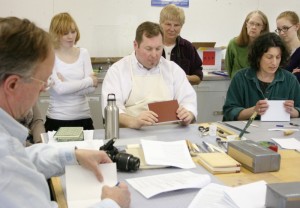 At Big River Bindery we don't want to have all the fun, so we offer workshops in printing and binding so you can try it out yourself. See the listings below for both long and short-term classes you can take. All classes have a maximum of 6 students.
To register, email bigriverbindery@gmail.com
or call 404-831-3849
Online registration for the workshops is at https://squareup.com/store/big-river-bindery
If you don't see what you want here, check out our list of past workshops at https://bigriverbindery.com/pastworkshops/
Spring 2020
We have some great workshops set up both in Atlanta and at remote locations for the spring. Check out these upcoming workshops.
In our shop in Norcross:
Introduction to Bookbinding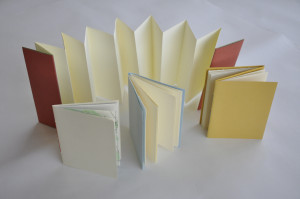 Wednesday, February 26th
7:00 pm to 10:00 pm
$40.00, materials included
Participants will learn techniques to start making their own books and pamphlets working with paper, thread, and glue. Different book structures will be created that can be used for gifts, small notebooks, journals, or art projects.
Register here.
Pop-Up Greeting Cards: Wildflowers of the Southeast
with Shawn Sheehy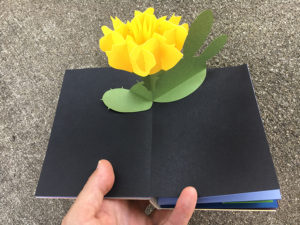 Wednesday, April 15
7:00 pm to 10:00 pm
$65.00
The structure of a flower is essential to its beauty. Creating flowers in pop-ups encourages us to focus on that structure. In this workshop, we will explore the unusual, complex beauty of three southeastern natives: eastern prickly pear, eastern columbine and pitcher plant. No experience is necessary, but previous experience in fiber arts and/or paper craft will speed your progress.
Bio: Shawn Sheehy has been teaching book arts courses and workshops on the national level—primarily in paper making and paper engineering—since 2001. The mass-market version of his artist book Beyond the Sixth Extinction was released in October 2018. He holds an MFA in the Book Arts from Columbia College Chicago. See more at shawnsheehy.com.
In an abundance of caution, we have canceled the Shawn Sheehy workshop and plant to reschedule once it's safe to gather together.
The Case Bound Book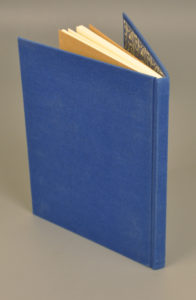 Saturday, May 2nd
9:00 am to 4:30 pm with an hour lunch
$120.00
The case bound book is a durable and classic form, combining sewn pages with a hard cover. Students will learn a sewing structure for the block of pages and create covers, which will then be joined to the sewn block. Students will make one book in the workshop. A variety of book cloth colors and endpapers will be provided.
We are evaluating the conditions and if it will be safe for gathering for this workshop. Feel free to email bigriverbindery@gmail.com for more information.
Tunnel Book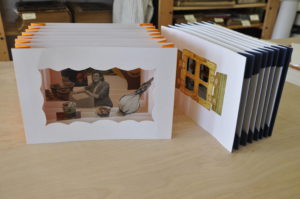 Wednesday, May 27th
7:00 pm to 10:00 pm
$45.00, materials included
Create a fun and interactive book with the tunnel book structure. The book consists of layers of paper that lets you create three-dimensional spaces for text and images. Students will make a book using their own text and images. Bring some images to cut up and a sense of play.
Register here.
Workshops outside of the shop:
Sculptural Book Forms

March 6 – 8
John C Campbell Folk School, Brasstown, NC
Become captivated by three-dimensional bookmaking. Concentrating on accordion-folded variations, we will construct tunnel, carousel, and flag books – ideal for making artist books and unique presentation items. Tunnel and carousel books have historically been used for children's books or keepsakes, and the flag book combines the accordion with pages that move as you open the book. Join us – no experience is necessary.
See registration information at https://classes.folkschool.org/class_details.aspx?pk=22270
Book Conservation for Circulating and Reference Collections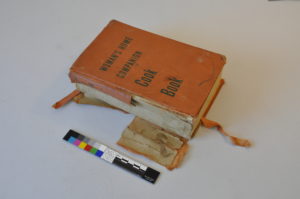 Georgia Archives, Morrow, GA (Metro Atlanta)
May 8 – 10, 2020
This class is a hands-on workshop for those responsible for the care, maintenance, and repair of circulating book collections. Topics covered in this course will include the criteria used in decision making concerning the triage and treatment of damaged books, an overview of the necessary equipment and materials used in the treatment of damaged books, and an introduction to the conservation ethics applicable to circulating collections. Repair treatments covered in this course will include hinge tightening, flat paper mending, tip-ins, spine replacement, re-casing, and new casing. Participants are encouraged to bring books for analysis, treatment, and discussion.
A webpage with the course information and registration is available now at the Georgia Archives website here.
Conservation Enclosures for Libraries and Archives

Georgia Archives, Morrow, GA (Metro Atlanta)
June 12 – 14, 2020
A good first step to the preservation of books and paper materials is to house them in an archival storage container. Proper enclosures can protect them from the environment, including temperature and relative humidity swings and the effects of UV light. This workshop will cover boxes and enclosures for books and paper items from the simple to the complex, including the cloth covered clamshell box, phase box, self-closing wrapper, tuxedo box, corrugated clamshell box, and more. Class discussions will include the best material choices for presentation and preservation, best practices for measuring and cutting materials, and choosing materials for the best archival qualities.
A webpage with the course information and registration is available now at the Georgia Archives website here.
Summer 2020
The following courses will be offered at the International Preservation Studies Center in Freeport, IL. Course descriptions and registration can be found at https://www.preservationcenter.org/
Care and Repair of Book Collections, July 8 – 11, 2020
Boxes & Enclosures for Libraries and Archives, Aug 25 – 28, 2020
Historic Book Structures and Materials, Sept 1 – 4, 2020