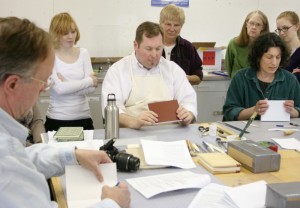 At Big River Bindery we don't want to have all the fun, so we offer workshops in printing and binding so you can try it out yourself. See the listings below for both long and short-term classes you can take. All classes have a maximum of 6 students.
To register, email bigriverbindery@gmail.com
or call 404-831-3849
If you don't see what you want here, check out our list of past workshops at http://bigriverbindery.com/pastworkshops/
Fall 2017
The Gold Goes Everywhere,
OR,
Pre – Industrial Finishing
For centuries, and before alternative glairs and hot stamping foils became available around the turn of the last century, egg glair and gold leaf were the principal means by which books were titled and decorated. At its most basic, portioned gold leaf is laid over the area to be tooled that has been prepared with paste wash, egg glair (a liquor consisting primarily of diluted egg whites, with most recipes calling for additional ingredients such as vinegar and milk), and a thin coat of grease. Heated tools are then used to expediently build designs, and the excess gold is cleared away, leaving the elegant yet often quirky tooled design blazing in all its glory.
In this workshop students will learn the essentials of this method, including leather preparation, moisture management, cutting and handling gold leaf, and maintaining proper tool temperature. We will make a batch of glair, fall in love with the magic of gold erasers, and perhaps most importantly learn how to trouble shoot! Students will practice on a small plaquette and as the final project tool a design on a model book spine. While we will be trying to work neatly, more importantly we will be trying to work quickly!
Though all materials and an assortment of tools will be provided, students are encouraged to bring any finishing tools and handle letters they may be interested in using.
Bio: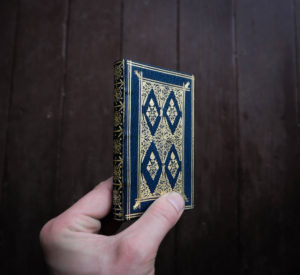 From the beginning, Brien Beidler has been inspired by historic bindings, and is consistently delighted by their ability to harmonize fine craftsmanship, quirky but elegant aesthetics, and evidence of the hands that made them. Though traditionally structured and bound with integrity, Brien's bindings seek ways to create new compositions and juxtapositions of these historic precedents. Brien also creates a limited assortment of specialized hand tools for bookbinding and its related trades.
Over the last seven years Brien has taken and taught a variety of bookbinding and toolmaking workshops, and is an active member of the Guild of Book Workers. In the fall of 2016, he and his wife upped their roots in Charleston, South Carolina and set up shop in Bloomington, Indiana, where Brien works from his home studio with Wren, his curmudgeonly Brittany.
September 9, 2017
9:00 am – 4:00 pm with a 1 hour lunch
$100 plus $75 materials fee (including a book of 25 sheets of gold leaf, leather plaquettes, and leather spine form to practice on)
Introduction to Bookbinding 
Never made a book before but always wanted to try? This one evening workshop will teach you the techniques to start making your own books and pamphlets, learning how to work with paper, thread, and glue. We will make six different book structures that you can use for gifts, small notebooks, journals, or art projects. No experience is necessary, and all are encouraged to join in.
Tuesday, Sept 12, 6:30 – 9:30 pm, $35.00
Long Stitch Binding
\The long stitch book was common to accountants in 16th Century Italy. In this workshop we will construct a modern variation using the long stitch method with multiple sections to build more pages into your books. The binding method has rows of sewing on the spine that serve as a decorative element. Participants will go home with a completed book.
Tuesday, Sept 26, 6:30 – 9:30 pm, $45.00
Limp Vellum Binding
After the use of paper for printing and writing, animal vellum (or parchment) was used for covers. A strong durable material, vellum makes for strong and flexible covering material. This workshop will teach you to create a soft-bound book that will hold up to repeated use. The interior paper pages are connected by alum-tawed skin, and then laced into the vellum cover.
Tues, Nov 28  & Tues, Dec 5, 6:30 – 9:30 pm, $110
Tunnel Book
Participants will make their own tunnel book, a book structure first popular during the 19th century. Tunnel books, or peep shows, are made of paper layers, attached on the sides with accordion folds. Each page is cut so the viewer can look trough the stack to see a scene built up through the layers. Participants will make their own tunnel book with images brought to the workshop.
Wed, Dec 13, 6:30 – 9:30 pm, $45
To reserve your spot, contact us at 404-831-3849 or bigriverbindery@gmail.com