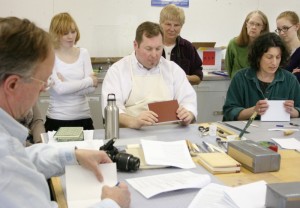 At Big River Bindery we don't want to have all the fun, so we offer workshops in printing and binding so you can try it out yourself. See the listings below for both long and short-term classes you can take. All classes have a maximum of 6 students.
To register, email bigriverbindery@gmail.com
or call 404-831-3849
Online registration for the workshops is at https://squareup.com/store/big-river-bindery
If you don't see what you want here, check out our list of past workshops at https://bigriverbindery.com/pastworkshops/
Spring / Summer 2019
We're taking a break from too many workshops in our shop, but still do teaching here and in the South.
Check out these workshops:
Exploring the Book Arts
Saturday, April 13, 10 am to 4:30 pm
This one-day workshop will give participants an overview of ways artists make books, from traditional to experimental.
Students will practice using the materials and tools while learning the structures. Students will finish sewn pamphlet variations, an accordion book, a blizzard book, and a tunnel book.
The books will give you options for sketchbooks and finished artists' books. Students can fill their books in class with photos, images, or drawings from home.
No experience necessary, just a sense of humor and fun.
At the Hudgens Center for Art and Learning. See the full description and registration at https://apm.activecommunities.com/hudgenscenter/Activity_Search/690\
Torn to Tidy: Book repair on cloth bindings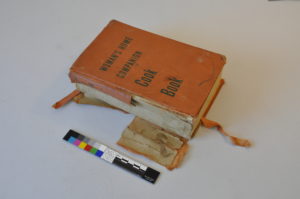 Friday mornings, 9:00 am to 12:00 pm, 5 sessions
April 26, May 3, 10, 24, and 31 (no class May 17)
During the 19th century, cloth was substituted for leather as an inexpensive binding material, and it is still used in commercial binding today. Many of these books have developed tears and breaks through repeated use. This workshop will focus on techniques for repairing cloth bindings at their weakest points: corners, head and tail, joints, and shoulders; and restoring them to use.
These techniques are ideal for circulating and reference collections. Practice books will be provided, but items can be brought from home or work as pieces for discussion and developing repair strategies.
Location: Big River Bindery, Norcoss, GA
Registration: $250.00, includes tools and materials.
Online registration for this class is at https://squareup.com/store/big-river-bindery
LOOKING BACK AT THE BOOK: HISTORIC BOOK STRUCTURES
Date: Sunday, Aug 11 – Friday, Aug 16, 2019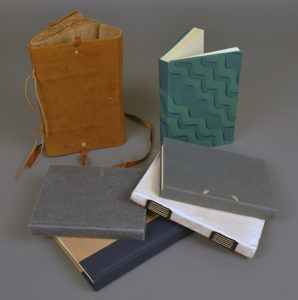 This class will cover the methods and materials used to make books from the earliest examples to modern day. Discover and try out variations in sewing structure and board attachment as we make book structures such as Nag Hammadi codices, laced-cased binding, 19th-century case binding and more, ultimately gaining an understanding of the evolution of bookbinding. Depart with a variety of books for journals and sketchbooks. All levels welcome.
At the John C. Campbell Folk School in Brasstown, NC. See registration information at https://classes.folkschool.org/class_details.aspx?pk=21696
MODERN BOOKBINDING: BOOKS THAT OPEN WIDE
Date: Friday, Aug 16 – Sunday, Aug 18, 2019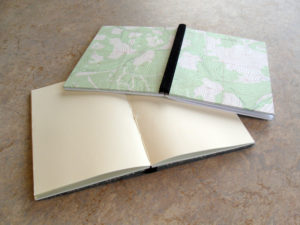 Join us as we concentrate on two modern book structures, the sewn board binding and the drum leaf binding. We will explore how sewing and adhesives can be used to create books with pages that open wide and flat, making these books ideal for sketchbooks, photo books, or artists' books. All levels welcome.
At the John C. Campbell Folk School in Brasstown, NC. See registration information at https://classes.folkschool.org/class_details.aspx?pk=21697
To reserve your spot, contact us at 404-831-3849 or bigriverbindery@gmail.com. Online registration can be found at https://squareup.com/store/big-river-bindery